Jordan, officially known as 'the Hashemite Kingdom of Jordan' is an Arab kingdom located in Western Asia. This country sites on the east bank of the Jordan River, and extends into the historic area of Palestine. Jordan, aka Lawrence's Arabia is one of the friendliest and welcoming countries in the world. In the Middle East that has a status for being very male-oriented region, Jordan comes as a cool breath of equality for both male and female population. This country is most popular for its Pink Petra caves, Roman temples, spectacular amphitheatres & gateways, separate samples of Christian civilization and glimpses of ancient Greek. Apart from the sightseeing, you can enjoy delicious cuisine of Jordan. If you are planning a holiday in Jordan and wondering which places you must visit and what you should do, then read on!
Sightseeing Places in Jordan
The Rose City of Petra
The Rose City of Petra is a unique jewel in Jordan's luminous archaeological crown. Moreover, it is now has been declared as one of the New Seven Wonders of the World. This ancient rock-carved sandstone monument offers orange, off blue, green and red hues.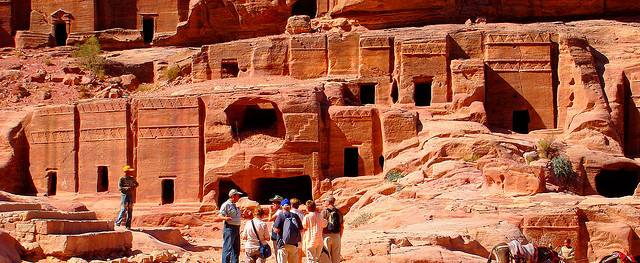 Wadi Rum Desert
An infinite, serene landscape of ancient riverbeds, spellbinding rock formations (referred to as jebels) and pastel-coloured extends forms Wadi Rum Desert. You can explore this vast desert by taking 4X4 desert jeep ride via the heart of stunning Wadi. Along with jeep ride, you can also relish on traditional Jordanian grilled dinner and enjoy camping under the stars or in separate tents.
Aqaba
Situated on the tip of the Red Sea at the Gulf of Aqaba, Aqaba is the one and only laid-back resort and gateway to the sea. This place is renowned for its pristine sandy beaches, colorful vibrant reefs and crystal clear waters dotted with incredible marine life. Aqaba is the best place to enjoy diving, sun-bathing, swimming and snorkeling in the sea.
The Dead Sea
Popularly known as the lowest point over the surface of earth, the Dead Sea is an incredible natural phenomenon. Sprawling on the border between Jordan and Israel, the mineral content of this 75-km-long and 10-km-wide saltwater lake tops out at 33%, or around six times as salty as a normal ocean. No one can drown in this lake as the high salt water content keeps you swimming without any effort. Besides all, the beauty of this place is absolutely wonderful.
Roman Ruins of Jerash
Another historic tourist appeal of Jordan, around the 2,000 year-old Graeco-Roman ruins of Jerash are known as one of the best-preserved member cities of the Decapolis, a merger of 10 Graeco-Roman cities. This place is visited by millions of history lover tourists every year.
What to Shop in Jordan?
If you are a shopping lover, then Jordan will not let you down in any manner. The souk (also referred to as local market) is the best place to go shopping for! The Syrian and Jordanian crafts are pretty and make good gifts to take back home. The beautiful tiny bottles of coloured sand in intricate patterns from Petra are very popular and a must buy item. Few of the other items that you can look for include embroidered tablecloths, Hebron glassware, famous woodwork in the form of chess sets and backgammon boards, quilts, cushions, kaftans, Bedouin rugs and tapestries etc.
Other Tourist Attractions:
Some other places are Azraq & Shawmari, Karak, Jerash, Ajhun, Madaba, Hammamat Ma'in / Ma'in Hot Springs, Desert Castles, Dana and Pella etc. You can explore any of these destinations during your Jordan tour.
Must Buy Things from Jordan
Another special buy is intricate and exclusive filigreed gold and silver jewellery. You must note that shops are open from 8.30am to 1pm and 4pm to 6pm in summer (3:30pm to 5:30 pm in winter) daily except Friday. Friday is a weekly off for the market. Apart from the markets, you can go shopping for many of branded stuff in elite shopping malls located in Amman, the capital of Jordan.
Explore Options to Reach Jordan
Before booking your Jordan holiday packages, you must checkout the ways to reach this beautiful country. To know more, read on:
By Air:
There are two major international airports serving Jordan, namely the Queen Alia International Airport (QAIA) in Amman and King Hussein International Airport (KHIA) in Aqaba. Besides these, the Amman Civil Airport is also served by flights plying on the nearby international routes. All these airports offer solution to the query of how to reach Jordan. Air Arabia, Lufthansa, Etihad Airways, Emirates and Royal Jordanian are some of the carriers operating regular flights to Jordan.
By Rail
One can take the Hejaz railway line from Damascus (Syria) to Amman – like the pilgrims on their way to Madinah often use it.
By Water/Sea
From the Red Sea port of Nuweibe in Egypt, passenger and car ferry service connects to the port Aqaba, twice a day. You can rent a car; take a taxi or a bus to any part of the country from Aqaba, which being the main port of Jordan is well connected.
For more info click here . Follow @EaseMyTrip on Twitter, Google+ and like us on Facebook for daily deals.