If you are fascinated by architecture, culture, heritage, and shopping then exploring Delhi offers so much to you that it may take more than a week to explore and discover its magnificence and distinctiveness. Yet its weekend gateways and the nearby destinations work as icing to the cake. If you are exhausted with your bustling routine life and looking for small breaks, one night stays, adventurous weekend trips, wildlife tours, religious visits or picnic spots, Delhi will never disappoint you. It has a lot more to offer in its circumference and proximity. The metropolis is the capital city of India that brings complete exciting options to choose from. From group outings to corporate away days and from family tours to fun trips with friends, weekend gateways near Delhi can truly take you on a memorable experience. Explore these places near Delhi.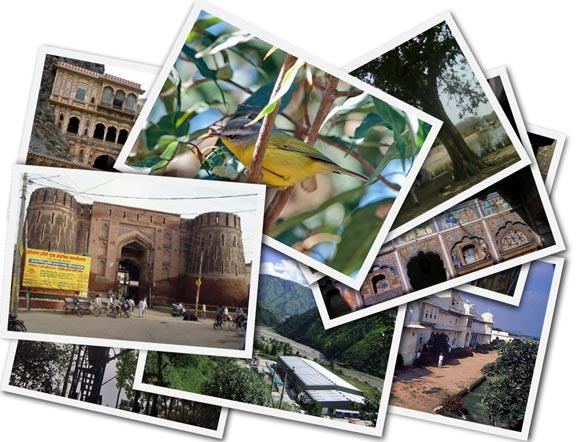 Agra: A home to three World Heritage Sites by UNESCO, Agra is famous as the City of Taj. After the construction of Delhi-Agra expressway, visiting Agra on weekends has become very popular and convenient. The city features several tourist attractions for the visitors especially the monument of love – Taj Mahal attracts the tourists with its beauty and exclusivity.
Neemrana: Situated at a distance of around 125 km from New Delhi, Neemrana is gaining popularity among tourists nowadays. Set on the Aravalli Range of Rajasthan, it is one of the most scenic places for weekend tours and its historic significance doubles the magic of visiting this destination. One can visit this place all through the year, which has great retreats to ensure a memorable living experience. The wonderful place talks about the glorious past and rich culture of the region.
Lansdowne: Situated at an altitude of 1700 meters above the sea level, Lansdowne is one of the most charming and serene destinations of India. It is surrounded by thick Oak and blue Pine forests and offers a peaceful holiday away from hustles and bustle of city life. For an idle and relaxing weekend gateway from Delhi, Lansdowne offers awesome surroundings along with a pleasant climate.
Jim Corbett: It is an ultimate gateway for adventure enthusiasts of New Delhi. Situated at about 270 km distance from National Capital Region, Jim Corbett is India's finest tiger reserve and national park that allows the visitors exploring multiplicity in flora and fauna. Come across a number of wildlife animals and different species of birds for an enchanting experience.
Rishikesh: From spiritual bliss to adventurous spirit of exciting activities, Rishikesh offers a fabulous time to its visitors amidst the serenity of Himalayas and close to the holy River Ganges. Famous for camping, river-rafting and several fun activities, Rishikesh is a major Hindu pilgrimage destination as well. Situated at a small distance from Delhi, this popular weekend gateway can be visited for Yoga tourism, spirituality and several adventure sports.
Besides these, there are several weekend destinations near Delhi including Alwar, Jaipur, Shimla, Mussoorie, Bharatpur and etc. You can choose from any of these to visit and take a break from stressful life.
Before making any plan, check-out holiday options on EaseMyTrip.in and select the best as well as suitable package for you.
You can also follow on Facebook, Twitter and Google+ for latest updates and offers on travel.